David Moorefield, Ph.D.
Production Sound Mixer
David L. Moorefield, Ph.D.

It all started as a child when little David recognized that he was gifted when it came to impersonating people and sounds. Later in life, he was diverted from his love of sound to the world of education where he received his Ph.D. Dr. Moorefield helped groups in the U.S. and Western Europe achieve their personal and organizational goals -- but he wasn't living his own dream.
A few years ago David had a mid-life crisis where he shifted from consulting and academia back to his first love, the world of sound. Two years ago, Dr. Moorefield started Sound Works which he says ". . . is an audio creation experience that goes beyond recording music and commercials. Sound Works is all about creating a "Sound Vision" with his clients.
Now, David is applying his talents to the highly acclaimed film, Camille's Magic where he is designing and recording sound. The movie allows him the experience of learning new skills and working with a special film crew and talent.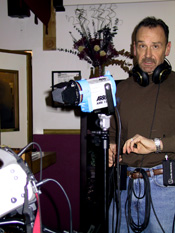 Rehearsal at Gertrude's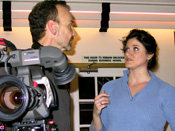 David with Janice
rehearsing at Gertrude's