Gina DiTullio
Gina has been "officially" involved with the performing arts since 1984 where she started with commercial acting and runway modeling through Vannoy Talent Agency and various other agencies.
Gina worked her way through college earning a computer science degree, where she met independent film artist Benn Ferrell; the owner of Comatose Picturez.
She co-produced and starred in her first full feature productions as Amanda in "In the Darkness", Gabriela in "Na' Fen Liôm" and "Lady Bright".
Getting tired of the computer industry grind, Gina left Colorado for a fun filled year in Vancouver, British Columbia, where she studied Television and Film Acting at The Vancouver Film School and had the opportunity to work with Canadian music channel in a music video for "Slowburn" and feetfirst productions in independent shorts, "Sheena" and "15 Minutes".

Upon return, Gina continued to work with Benn, who started DockRat Productions and starred as Shelly Holbert in the theater production of, "24 Hours and Something Original" and back to screen as Kristy McMahon,in "WonderBred". She worked in conjunction with DockRat Entertainment, Vivtone Productions, with Tony and Viviane Hughes, and Napolean Hudson, with Napoleon Live Productions in the cable access sketch comedy series "Loosen Up!"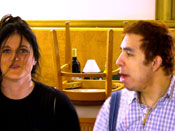 Rehearsing for her role as Janice in Camille's Magic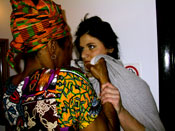 Driving, Camille to the limit


News
She has worked with the Michael Stansbury and the Masquers over the years as well as worked in the Gay and Lesbian Theater Festival with Tony Babin's, UpStart Theater Ensemble, where she played Mabel, in "The Most Fabulous Story Ever Told", Anactoria and Hera, in "Sappho in Love", and the Nurse in "As Is." Gina played in "Two by Two" as pagan worshipper Goldie for StarBar Players, and the fabulous running dinner theater production of "Party of One" with Encore!

She has been the Entertainment Coordinator for Colorado Springs Gay Pridefest 2003 and Gay Pridefest 2004, and continues to manage and choreograph for the LEZBOS, a fundraising entertainment ensemble and dance troupe. Whew! This sounds exhausting. Where does Gina find the time?