Maxine Stores
Choreographer and Fabric Artist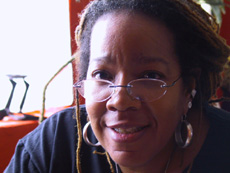 ¨ Arts & Craft Teacher (FutureSelf)
¨ Quilt Designer
¨ Fabric/Textile Artist
¨ Clothes & Costume Design
¨ Art Lecturer (UCCS & Colo Spgs Pioneers Museum)
¨ Grant Writer
¨ Dancer & Choreographer– Sankofa West African Performance Group
Azuri Ngoma Dancers
¨ Board Membership: Sankofa
Business of Art Center – Manitou Springs
FutureSelf – Art for At-Risk Teens
Currently attending Pikes Peak Community College, full-time, pursuing an Arts/Teaching degree.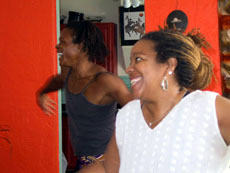 Since 1964 I have been sewing clothing, costumes and household accessories. I purchase & collect fabrics and textiles whenever I travel. In 1994 I began my quilting journey. I use mainly West African fabrics in my quilts and designs. The brilliant colors and designs of the fabrics have been my inspiration. In researching African culture and history, I was introduced to Adinkra symbols and use these powerful West African symbols in my quilts to teach and/or tell stories.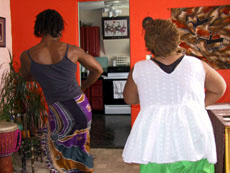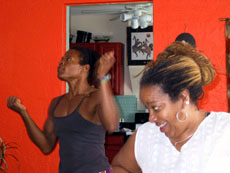 In 1992, I helped organize the performing arts organization, Sankofa and took on the responsibility of designing and sewing dance costumes and accessories. As a member of Sankofa, I was a principal dancer. I have performed throughout the Colorado Springs school system, and the state, including Denver, Pueblo, Boulder, Ft. Carson, Ft. Collins, Trinidad and Agular. I also had the wonderful opportunity to perform with Nigerian legend Olatundji in Taos, New Mexico. Also performed at the University of Wyoming, and received opportunities to perform in Panama and Jamaica.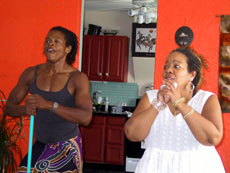 In 1999, I was co-recipient of Colorado Council of the Arts Heritage Award for my quilting and community projects. This award recognizes cultural traditions in art. I have received commissions to make quilts of many sizes ranging from 24 in. x 24 in. to 10 ft. x 10 ft. My quilts have found homes in St. Louis MO, Dallas TX, Washington DC, Denver & Colorado Springs CO. Other quilt projects etc., include Cruiser Quilts for the police & fire departments.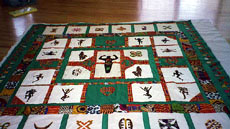 Since 2002 I've taught art for FutureSelf, conducting workshops for at risk teens. The workshops are conducted one weekend each month, all day Sat & Sun. Projects include life-size fabric portraiture, quilts, soft sculpture dolls, fabric painting, collage and papermaking. I also teach West African dance and rhythms, private choreography and class sessions.
Also taught two a master classes for the Colorado Art Education Association conference, Breckenridge CO in 2002 and Vail CO in 2004.


News

I have a small business, Nutmeg Creations, designing and creating one-of-a-kind quilts, African attire, wedding gowns, evening dresses, etc. My client base includes Harambee Dancers – U.C. Boulder, Joda & Friends West Afrikan Dancers and Sankofa West African Dancers. I also design coats, hats, jewelry, bags, ornaments, pillows, etc. My inspiration comes from all kinds of things, nature, people, places. •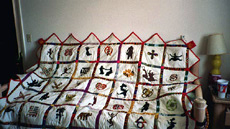 Gallery/Shows/Awards:
· Body Packaging Performance Art Show– 1997 & 2003
· Business of Art Center, Manitou Springs – "Moasic: Black Artist of the Pikes Peak Region"
· "Fabrics of My Life" (one person exhibition)
· Colorado Council of the Arts – 1999 Folk Arts Heritage Award
· Colorado State Fair – 2003 and 2004 Meritorious Awards
· Common Wheel Co-op, Manitou Springs – Quilt Exhibition 2002
· Gallery of Contemporary Art @ UCCS – "AKA" Exhibition
· Hillside Community Center – February 2004
· Missouri Black Expo – St. Louis MO
· Tri-Lakes Art Center – 2002 Honorable Mention Award