Robert Wooldridge, Jr.
Executive Producer, Assistant Director, Director of Photography,
Gaffer
"Once upon a time my mother thought I'd make a great dentist."
When Robert was young he enjoyed two things – movies and cooking. He either wanted to be a chef or a writer. His parents disapproved of both and he found myself on scholarship to Denver University, majoring in computer science. Much to his dismay college wasn't for him. I had to go to the school of 'hard knocks where he became frustrated and out of sync with the world. Dropping out of college landed him a job in fast food where he quickly worked his way through the food industry. Back in the Colorado Springs by the fall of 1983, he began working a series of restaurants from fast food to cafes, using every opportunity to learn the tricks of the trade.
In 1996 he heard of a place for rent in Old Colorado City that sounded perfect for an elegant place he wanted to name Gertrude's. Through Gertrude's Robert met Pamela and Juliet, two people who enjoyed his same love of food and movies.
"I've always had a love of the dramatic", Robert says. "Brian de Palma's 'Dressed To Kill', Woody Allen, Meryl Streep, Diane Keaton and the great actors have always pulled me in."
He hopes Camille's Magic will make people stop and think. "It has so much to offer on so many levels."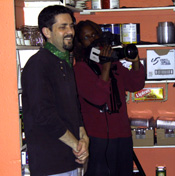 Robert and Pam checking lighting
They now know they need a light meter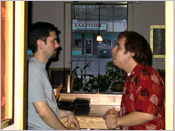 Robert playing Robert in his cameo role as the prep cook who gets fired first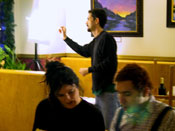 Adjusting backlight for a scene