Adrian Vega
Sound,Camera, Gaffer,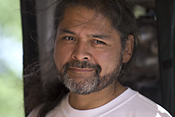 How did you become part of this film project?
My co-worker Tree informed me about a project she is currently involved in, called Camille's Magic. She asked if I would be interested in volunteering on this project.

Why did you get involved?
As a Union Stagehand in Colorado Springs, where Culture is only found in laboratories, I realized long ago that becoming multifaceted was the key to my survival in this industry in this town. I have always been a strong believer in freedom of speech and thought, therefore my decision was easy. Besides, Gertrude's Restaurant (as caterer) made the decision a no brainer.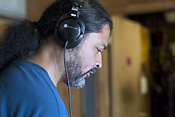 What is your day job? Day,Night,Afternoon,Evenings,Weekdays and Weekends, just bring coffee and donuts I will be there.. Alas, I am a Stagehand.. Theatre,Concerts, Conventions, Conferences, Parties and Special Events are what I do.

Have you always been interested in filmmaking?Please explain. Having grown up in a small Mining town in Arizona. Where entertainment was in short supply and lacking in quality (for sure). In this hot and dry area, the Movie Theater was always a cool and inviting place, where escapism was a norm, the refreshments cold and a double feature was .35 cents.. How could I go wrong.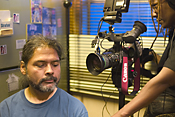 In this time and place I realized that there had to be more to Life than working, drinking, fighting and marriage. At this point the questions who, why, when, where and what are we here for, became very important to my existence. Movies became a way to gain an out side perspective and a inward journey to the self.
By making films a person could possibly help others attain a higher and richer outlook towards all Life on this small and Beautiful Planet.

What is your favorite movie and why?
Watching Movies has always been a personal and quiet time/place for me and so a favorite doesn't really exist in me. Good or bad movies always seem to give me something, whether it be a human nuance, a technical aspect, or laughs and entertainment. It is all good to me.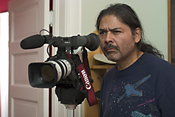 What do you hope to gain from this experience?
The gain from this experience will be hard to measure. People such as Pam, Juliet, Robert the cast & crew will all have given so much by the time we finish this film, that to merely mention the life, technical and industral crossover potential will not be enough. The new friends and acquaintances plus the possibility of joining other film crews is and has been a dream for so long, that to be here now is a great gain and more.