Charles Thompson
Boom Operator
I became part of this film project because I was already working for Robert and overtime I had a chance to befriend Pam. When the talk about the movie came up, she asked if I would like to be involved and I agreed. I was afraid to say no, because I thought I might be fired. LOL !!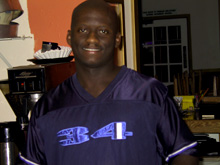 I wanted to be involved because I always did like going to the movies. At one time or another we all wished we could be on the big screen or behind the scenes adding our own little bits to a movie. When the chance came, I was all over it.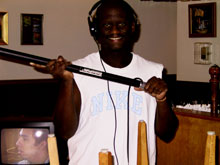 I've worked for Robert for little over a year cooking side by side and in that short time I really got to like Robert, as well as my job, and hope to be there until Robert locks up and/or we open up a new restaurant in the Caribbean.
Filmmaking is a whole new world to me. We look at movies thinking what great movies some of us like. For me, I always wonder how much it would take to make a movie. If nothing else I've learned numerous things about sound and watching actors and actresses on the set. I'm happy to be here.
My favorite movie is Scarface, far from what we are working on right now. But I'm sure what we are working on right now will be even bigger than Scarface even though Al Pachino is one of my favorite actors of all times. Look out big Al Camille's Magic is coming.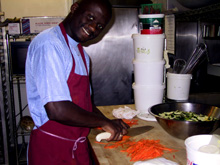 Right now, other than all the things I've learned about movies behind the scenes, the one thing I would love to see is all the hard work everybody has put into this movie is, first of all, completion and secondly for the movie to do well. I don't see any reason why it shouldn't, there is a lot of upcoming talent in this movie, and that's what I think.