Paul Jensen III
aka Q
production sound mixer, sound track composer
How did you become part of this film project?

I met Pam Jones and Juliet Draper through my father about five years ago. Back then I was totally dedicated to my hip-hop group Key Elements, of which I still produce/emcee for. All I wanted was to rap, but Pam Jones saw something deeper in me and convinced my dad to purchase equipment for my future in music.
Pam also gave me guidance to a calling I had no idea about…audio engineering. She pretty much demanded I research schools for this trade, and I did. After graduating high school I took off to the Conservatory of Recording Arts & Sciences, where I graduated with a diploma and certifications in audio engineering and other industry wide standards.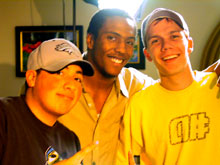 After a grueling six months of an internship at the Cutting Room Recording Studios, NYC, I returned home to Colorado Springs in search of GAINFUL employment (time to pay off student loans!!). A few months past my return, Pamela Jones contacted me in hope I would assist her in the audio/music creation for a film she was about to film. My only response, "I'd be honored."



Why did you get involved?

I dedicate all of my engineering knowledge and experience, so far, to Pam Jones. If she had not kicked my behind and said, "You NEEED to do something with music." I would've never been introduced to any of my connections today.
I'd probably still be struggling to get Key Elements to a stature of "local hero". I can defiantly say I am involved in this project, because I believe in Pamela and her work and I KNOW she believes in my work and me.

What is your day job?

I am a Lot attendant for Lexus of C. Springs. Pretty much I detail cars all day. I also am one half of Key Elements, where I get my nickname, Q (short for Quintessence). Plus, I am a freelance musician: turntables, guitar, trombone, keys, and vocals


Have you always been interested in filmmaking? Please explain.
Yes. Ever since "Cycle7" in school in Arizona, I have been interested in the audio dept. of filmmaking. It can get very intricate and sometimes silly. For example, watch your favorite movie, did you know that EVERY sound in that movie is either from a sound library in a Hollywood vault or recorded in a studio. Just listen.
Every footstep, the swish of a winter jacket, gunshots, hits to the chest on your favorite action hero, all recorded. And the Union…of score musicians. To watch a full orchestra perform the score to a movie EXACTLY the way it was meant to be is, to say the least, breath-taking.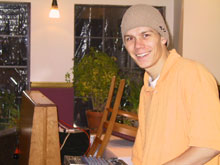 What is your favorite movie and why?
Boondock Saints (Director: Troy Duffy. Stars: Willem DeFoe, Sean Patrick Flanery). This is a well put together story about two brothers who go around killing everyone they think are evil. It's kind of James Bond-ish, but real. There's not much I can say about it without giving it away. For anyone who is film-oriented, I recommend this movie. Great shots/transitions/music. See it and you'll know what I mean.
What do you hope to gain from this experience?
Simply the experience.